854-61st Street, Oakland, CA 94608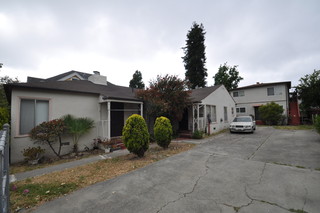 Location:
North Oakland
BROKER'S OPEN THURSDAY-MAY 31ST FROM 9:30 TO 12:30 - PLEASE
DO
NOT
DISTURB TENANTS
5-units conveniently located in North Oakland. Improvements on site consist of a front duplex, middle semi attached cottage, and a rear detached duplex-all on one lot. Excellent potential for owner occupancy plus income. Each unit is separately metered for gas and electric and the owner pays water and garbage.
Unit A (2-Br/1-Ba) $ 750
Unit B (2-Br/1-Ba) $2,300 (projected-vacant)
Unit C (1-Br/1-Ba) $ 700
Unit D (1-Br/1-Ba) $ 700
Unit E (1-Br/1-Ba) $ 600
Gross Scheduled Monthly Income: $ 5,050.
Gross Scheduled Annual Income: $60,600.
Annual Expenses (38%) : $23,028.
Net Operating Income: $37,572.
The information contained in the following Marketing Material is intended to be reviewed only by the party receiving it from Better Homes Realty and should not be made available to any other person or entity without the written consent of Better Homes Realty. This Marketing Material has been prepared for informational purposes only and merely to provide a summary of unverified information to prospective buyers, and to establish only a preliminary levelof interest in the Property. The information contained herein is not a substitute for a thorough due diligence investigation. Any purchase must be based upon the prospective buyer's own investigations and not upon the information contained herein. Such an investigation shall be at the prospective buyer's own risk. Better Homes Realty and the sellers make no express or implied representations or warranties as to the accuracy or completeness of the information contained herein or madeavailable in connection with any further investigation of the Property. All projections, figures or estimates provided herein should be considered hypothetical only and all potential buyers must take appropriate measures to verify all of the information set forth herein. Better Homes Realty and the sellers expressly disclaim any and all liability that may be based on such information, errors therein or omission therefore.
Please call for additional information

854 61st Street
Oakland, CA 94608
View Map
Broker:
Better Homes Realty
All information in this site is deemed reliable but is not guaranteed and is subject to change
ID#: 55280389
Location: Emeryville, CA , 94608
Address: 854 61st Street, Oakland, CA, 94608, US
School District: Oakland

Price: $850,000
Bedrooms: 7
Bathrooms: 5